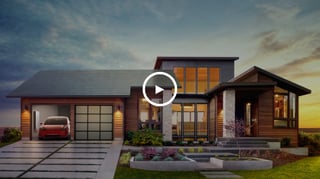 Tesla's new home solar power roof tile product is an interesting twist on an existing technology. The tiles are certainly attractive, and come in a variety of styles designed to fit different architectural themes. The company's roll-out and press event was light on economic and cost specifics, but heavy on aesthetics and presenting a holistic "systems" approach to home solar power self-generation, storage, and consumption. See if solar makes sense for you:
The vision is there: generate your own electricity with your own (beautiful) rooftop solar power system. Store that electricity in the new Powerwall 2.o energy storage system, run your home's electricals when you need it, and charge your (Tesla of course) electric vehicle (EV) for transportation. All with little to no need for outside grid electric power. If it works this would represent true energy independence.
Source: Bloomberg News.