A report released by Duestche Bank predicts a strong drop in US residential home solar power prices over the next several years spurring continued growth of the market. According to the report, module prices (the complete solar panel) may drop by up to 40% in the next several quarters to below $0.40 per watt.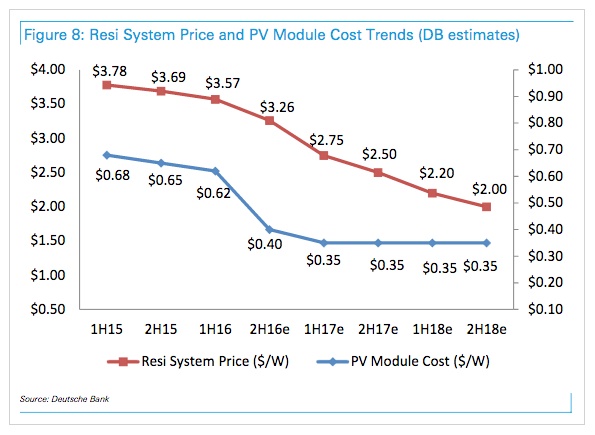 This price drop would represent a significant reduction in solar panel costs and would create downward pressure on retail pricing for residential home solar power systems. As reported by Reneweconomy the continued price drops may bring the economic payback period for a home owner down to five years in certain markets.
One of the persistent cost drivers in the US solar market has been what's called "soft costs" or those costs associated with installation, permitting, sales and marketing, and overhead. The US market still pays more than counties such as Germany and Australia, where their cost per watt installed is significantly lower. The Duestche Bank report posits that the "balance of system" (BOS) and "soft costs" will come down in concert with the solar panel costs as the industry gains efficiency. Inverter costs are expected to drop over the period, contributing to the lower price of an installed solar system.