Solar Power in America has gained wide acceptance over the last few years as prices have dropped and solar panel installation has greatly increased. Nine out of Ten Americans (89%) support solar power, regardless of political affiliation, according to a new report. Energy costs and environmental concerns rank highest on the list of reasons for such unprecedented support.
The Pew Research Center, a polling and research group focused on global trends released a report highlighting the changes in American's attitude towards (solar power) in particular, along with other sources of energy. Solar power gained the highest acceptance of any form of power (see chart), with only 9% of Americans opposing it. Wind Power came in a close second at 83%, with other forms of more traditional energy generation taking a serious back seat (with half or less the support of solar).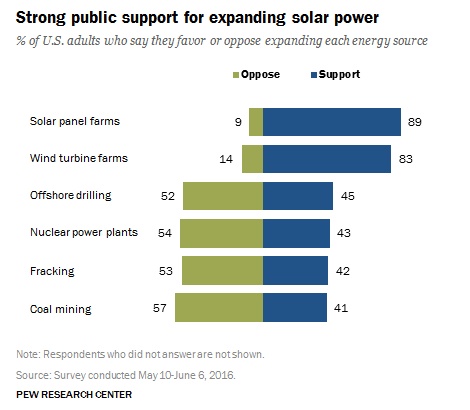 American's favorable numbers on solar energy while on the one hand are impressive and encouraging, they also coincide with much of what we see in the industry; that is people want to lower their energy costs, gain independence, and lower their impact on the environment. This doesn't always translate immediately into a homeowner installing solar, but they are increasingly aware of and intrigued by the many benefits of clean, self generated solar electricity.

The Pew research looks at large utility scale solar farms, which are providing some of the most competitive low cost energy available on the open energy market, and forecasting 9.5 GW of solar installation capacity to come online in 2016 (Their source is the US Energy Information Agency EIA report). According to the EIA, if forecasts prove correct, 2016 will be the first year that new capacity solar energy installations exceed any other single source of new capacity electricity generation in the US market. The 9.5 GW figure does not even take in to account rooftop residential home solar installations, which would push solar further above the other energy types. Nonetheless, solar still has a huge market growth potential, as overall market penetration levels are at just over 1% of total US electricity grid generation.
Attitudes for considering a home solar power installation are almost evenly split between saving money on utility bills (90%) and helping the environment (87%), while other motivators are in many respects a subset or variation of the above mentioned primary themes. (see chart). In states where electricity costs are higher, solar has a bigger impact as it is offsetting a more expensive electric bill.
Not surprisingly, California solar installers lead the nation in the number of systems at over 40%. The state has fairly expensive electricity, plenty of sunshine, good net metering policy, and good utility interconnection codes to make solar installation straight forward. According to EIA, New Jersey was second, followed by Arizona and Massachusetts. (see chart).