How We Work
With our new

EnergySage

partnership and trusted network of local installation partners, GetSolar and EnergySage work to help you get multiple competitive proposals for your solar home energy project delivered to your project account. Our aim is to help you secure the best value on your system. We see value as that perfect balance of great price and exceptional quality that meets your needs.
How does the GetSolar EnergySage Partnership Work? Three simple steps: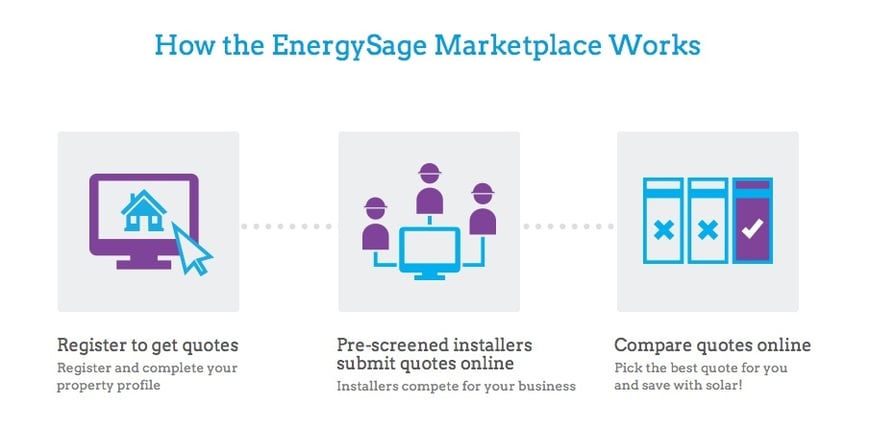 Step 1: Education and Registration.
We firmly believe that informed consumers make the best decisions. Solar power is by no means a new technology -- it's tried and tested. Due to the recent surge in solar interest, there are a lot of pushy sales techniques and misconceptions out there about what solar can, and cannot, do. We've got thousands of articles on each website-- and friendly experts -- to help you bone up on solar power before and during your online property profile setup using state of the art satellite image assessment and real-time market pricing.



Step 2: Assessment and multiple Quote submital to your EnergySage platform account

We'll help you understand what makes for a good solar project, namely:
Whether you live in a state and district where solar rebates and other incentives are available
Whether you'll need a small-, medium- or large-sized solar energy system depending on your needs.
Step 3: Site Visits & Proposals
When you're ready to pick the best solar bid through the EnergySage Quote Platform, you will be matched with trusted installation partners in your area -- you select the proposal (and installer) you think is best for the job. Simple as that! Depending on the installer, and your particular site location, an initial site visit by a technician may take place.

Ready to get started? Great! Simply tell us a bit about your home. Or, to speak with one of our solar energy specialists immediately, just give us a call at (800) 265-3646.